Management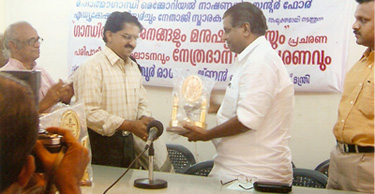 Dr.Sasidharan Nair receiving Gandhian Sevana Puraskaram
Award from the Hon'ble Minister
Dr. A.B. Sasidharan Nair,
the Chief Physician and Managing Partner is the only son and heir to the legacy of Vaidyakalanidhi late Dr.P.R. Bhaskaran Nair and Smt. Leelavathy Amma, Amba, Fathimapuram, Changanassery. He was born in 1952.
Education: Perunnai N.S.S. High School, N.S.S. Hindu College (Graduation in Zoology), Govt. Ayurveda Medical College, Trivandrum (B.A.M. degree) and Post Graduate Diploma in Sidha Vaidya.
Practicing Ayurveda and Managing Amba Ayurveda Vaidyasala since 1980.
Wife: Mrs.Suma S. Nair, D/o Dr.Padmanabhan Nair, Poornima, Trivandrum.