Cultural Heritage
Keralite culture, the culture of "Malayalees" or people of Kerala has a flavour of its own, a mixture of Aryan and Dravidian cultures. Kerala or the land of coconuts has some peculiar geographical features. Bounded on the east by the Western Mountain Ranges and the west by the Arabian Sea, it has had long periods of insular existence. The way it is situated with water on three sides has resulted in the visit and occupation by several travelers, who have left their distinct mark on the society of Kerala. Keralites have always been a maritime people. Kerala which is the host state for modern India's Southern Naval Base perhaps had the strongest navy in India.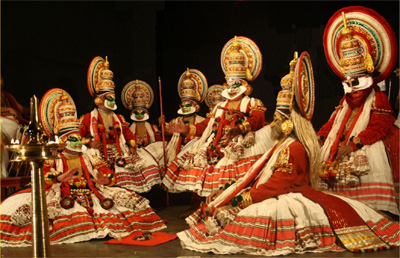 Kerala has been known for its spices and overseas trade for centuries. Early overseas trade started with the export of ivory, peacocks, monkeys, teakwood, sandalwood etc. to the Middle East from the time of King Solomon. Later on, foreign trade continued with Rome till the fall of the Roman Empire. The Portuguese came to Kerala in the 1500s. The Portuguese and thereafter the Dutch and then the British came here initially for trade and commerce.
The influence of Sanskrit language was tremendous and Malayalam became sort of a synthesized language of Sanskrit and Tamil (language of the state "Tamil Nadu" to the north and east of Kerala). During this period, Ayurveda also took its roots in Kerala. Kerala is a melting pot where several ethnic and religious groups mingle. With the advent of the British in the late 18th century, English language assumed importance. This brought about unprecedented impact upon the life and culture of the Keralites. In this respect, Kerala owes a great deal to the Christian Missionaries. They not only educated the people but also introduced health-care programs. They were careful not to disturb the Hindu community and easily blended into the Kerala culture. Latin was replaced by Malayalam for Church services. The Muslims of Kerala are the descendants of the Arab traders who came to Kerala and married locally and finally settled down here. They were mostly concentrated in the Malabar area and up to the 18th century, were engaged as agricultural laborers, petty traders and soldiers in the King's army.
Kerala is a Matriarchal society and is a colourful cultural region of the Indian subcontinent with influences from the British, Arabs, Dutch, Portuguese Chinese, Jews and so on. Kerala is the home of several famous art forms including, Bharatanatyam, Kathakali, Mohiniyatom, Koodiyatam, Otamthullal and martial arts forms like Kalarippayattu. Kalarippayattu is said to have greatly influenced Karate through the Buddhist monks who visited Kerala at the time. A place never to be missed by any visitor to India, Kerala boasts of several ancient temples and other religious and heritage spots of interest. Kerala is rightly called "Gods Own Country".